Promoting young talent
Astroparticle physics is still a comparatively young field, and very attractive for talented young scientists, offering a variety of career options. IceCube partners conduct a wide range of activities, reaching out to people of any age and in any phase of their career. Kids, tweens and teens are fascinated by the exciting research the IceCube project carries out. Specialized programs support students and scientists along their career paths in academia. As a large, data-intensive, technologically challenging project, IceCube also helps its participants learn important new skills and knowledge for a possible career in industry.
Successful grants related to the IceCube project have fostered academic career prospects. In recent years, several aspiring junior research groups have received Emmy Noether scholar­ships from the DFG; one scientist has received an ERC grant. Since the IceCube project began, 9 new professor­ships have been established in astroparticle physics in Germany, each with a research focus on IceCube. These in turn have opened up unique research and training opportunities at IceCube partner locations.
From students to professors
Early mentoring of outstanding students, doctoral candidates and postdocs is a key aspect of the training and involve­ment in IceCube research. Since 2008, around 100 doctoral students and 300 Master's and Bachelor's students have success­fully completed their theses at German IceCube partner institutions (universities and Helmholtz Centers). The training and research opportunities are truly diverse, ranging from the develop­ment of particle detectors and data analysis to the latest applications in machine learning. Post­docs can take part in renowned scholar­ship programs. Peer advice, collaborative funding proposals, and close networking within the international IceCube Colla­boration help smooth the transition from early-career research to more senior scientific positions, including professor­ships.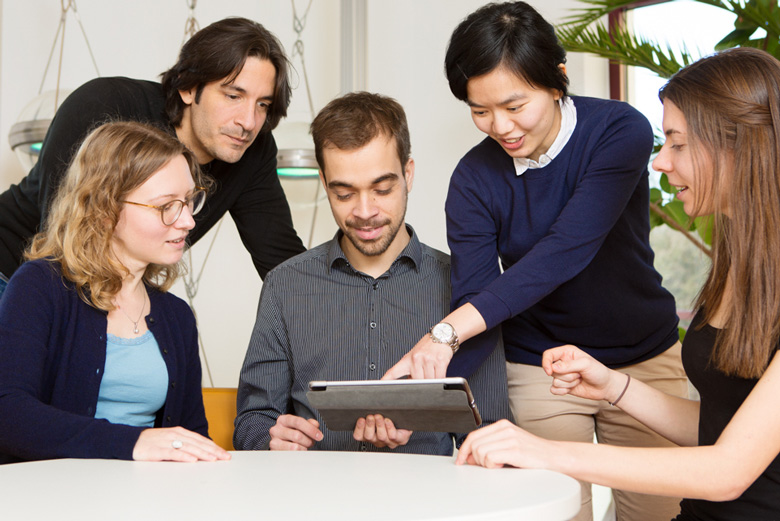 IceCube partner institutions attract top young talent every year from around the world. (Credit: DESY, Gesine Born)
First-class doctorates
The IceCube project offers excellent career opportunities for PhD students. Doctoral candidates are directly involved in a large inter­national research project, and at the same time, they acquire specialized expertise and trans­ferable skills. All participating universities and the two Helmholtz Centers offer an opportunity to do a doctor's degree. Thesis topics have been stunningly diverse, ranging from experimental to theoretical physics, from detector construction in the extreme environ­ment of the Antarctic to the properties of neutrinos as well as neutrino and multi­messenger astronomy, deciphering the nature of dark matter or the processes during supernova explosions.
Moreover, graduate schools at partner universities and at DESY and KIT offer a broad and inter­disciplinary study program. The graduate schools are closely connected to other cutting-edge university and non-university partners beyond the IceCube consortium, such as various Max Planck Institutes, the European Southern Observatory (ESO) and international cooperation partners. These include the Weizmann Institute of Science in Rehovot, Israel, and the Universidad Nacional de San Martin (UNSAM) in Buenos Aires, Argentina.
For students and teachers
IceCube-Gen2 will inspire kids, tweens as well as teens and attract them to the natural sciences and get involved in research. The work IceCube carries out in attempting to answer fundamental questions about the nature of the universe as well as the detector's unique geographical location at the South Pole cannot help but attract and fascinate people of all ages. The IceCube master class, for example, invites young students to spend a day working in astro­particle physics at the research facilities all over the world. Regular media and public relations activities, such as the Long Night of the Sciences and lectures open to the public, encourage visitors to think about scientific issues and the role they play in society.
The "Netzwerk Teilchen­welt" network brings together programs and materials for teachers, students and project leaders through­out Germany. The network's goal is to convey the fascinating knowledge that (astro-)­particle physics reveals by evaluating real data. Participants in the network's programs get a first impression of how research is conducted in large-scale experiments. University students and doctoral candidates communicate the basic ideas of their work, and in doing so pass on their own enthusiasm to participants.